I will be your friendly male voice over narrator in american english for youtube, more
Last updated on February 19, 2023 11:18 pm
Details
I am offering a professional, yet friendly and natural North American male voiceover to bring your script to life!
***Commercial Rights included FREE OF CHARGE***
For your Youtube videos, whiteboard, explainer, corporate, elearning, narration, radio, TV, commercial, video projects and any other project.
My tone of VO voice ranges from fun warm and engaging, to serious compelling authoritative, or emotional and heartfelt and sincere. From youthful to younger adult to older or middle aged, Dad father uncle grandfather. I can offer a deep, gravelly gruff blue collar voice, to a bright happy friendly best friend voice.
My skillset and talent as an actor, acting in both film and stage brings a range of emotion and truth that not every voice actor can provide you.
I can offer a standard and neutral North American, American, and Canadian accent.
One free style revision on scripts of 300 words or less. For longer scripts, add a day so I can send you a style read for your pre-approval.
Order Now!!
Not ready to order yet? Favorite my gig so you can find me later!
FAQ
What are Commercial rights?
Commercial rights are for internet, integration into product, non-paid distribution. This means most YouTube videos as well as other social media projects.
***Commercial Rights are Free and included with this Gig***
What are Broadcast rights?
Full broadcast rights are for any paid internet, social media, TV , radio, etc. If you or your client pay to have the project shown, the broadcast rights must be added.
What is included in a revision?
One free style revision on scripts of 300 words or less. For longer scripts add a day so I can send you a style read for your pre-approval. The revision can include a partial script rewrite of the original script changed, and any added cost if any will be depending on how much is changed
Will you automatically fix any errors in the script?
If you need me to repair copy, or suggest changes, please add the Proofreading extra, which does add a day to the order (otherwise there's often not enough time to suggest changes and hear back from you before my normal 48 hour delivery time comes to an end)
Will you pronounce the words in my script correctly?
I am fluent in English, so I will only require guidance on words that are technical, medical, regional (unusual town name pronunciations, etc) or words in a language other than English.
In those cases, the best course by far is to record your voice slowly saying each word and send me an audio file
Can background music be added to the voiceover?
Yes, I do offer this service as an Extra. The music must be Royalty free and from a Royalty free source.
I can't suggest music for you as that is very subjective, but if you go to www.storyblocks.com/audio and find a track you like you can send me the url and we can use that.
How is your editing?
I have many years experience as an audio editor. I was the host of a radio show for many years, which included recording and editing ads and public service announcements for the station and other programs.
Does Timed Audio Sync include overdubbing?
Overdubbing, or matching my voice to an onscreen actor's mouth movements, is Not included in the Timed Audio Sync(TAS) Extra. The TAS including matching specific parts of the scripts to very specific times and images in your video that has already been produced
Specification:
I will be your friendly male voice over narrator in american english for youtube, more
| | |
| --- | --- |
| From | Canada |
| Member since | Aug 2021 |
| Avg. response time | 1 hour |
| Last delivery | 5 days |
5 reviews for
I will be your friendly male voice over narrator in american english for youtube, more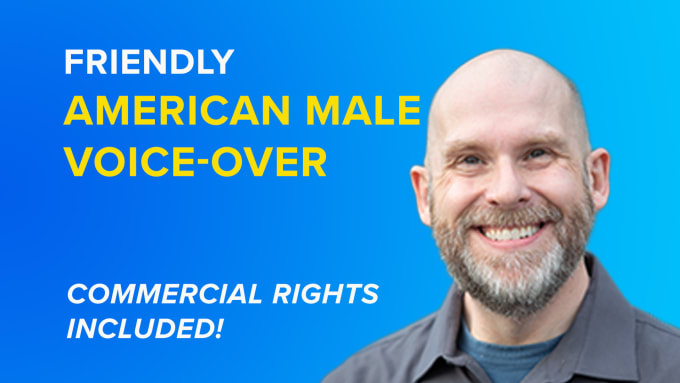 I will be your friendly male voice over narrator in american english for youtube, more