I will do a french voice over, be your french voice
Last updated on May 15, 2023 1:44 am
Hi, I am Mathias, professional French Voice Over Talent since 2010 and I will happily record your scripts and meet your demands
CLIENTS
Trusted internationnaly by Orange, Renault, Peugeot, Royal Air Maroc and many other as well as locally by major brands (Banks, Telecoms, industrials,…)
PERFORMANCE
I will perform the recording based on your direction but I might allow myself to propose alternate takes if my feelings comands it… Feeling and sensitivity are key to my interpretation of a script.
QUALITY
Being as well an audio engineer in Audio Post Producion, I will deliver a broadcast ready Voice Over, recorded in a professional environnement and cleanly edited
Project Types
Voice Actor
Corporate Video
Documentary Voiceovers
Radio and TV commercials
Sync Voice with Video
Audiobooks
Event Audio
Game Character
IVR / MVP System
Youtube Videos
Podcast
Game Character
Narration
Anything that you would need me for
REQUIREMENTS
Please send in 1 final script per order
Include correct pronunciation of names, places, foreign words, technical terms if needed
Please check what rights (commercial or broadcast) do you need for your project
FAQ
What is "Commercial Use" for voiceovers
If you plan to use a voiceover in a manner that is for-profit such as presentations, social media, radio liners…
What is "Full Broadcast Rights" for voiceovers
If you plan to use a voice over in paid marketing commercials on the internet, radio and /or TV
What is your revision policy for a voice over?
2 revisions per order including mistakes/mispronounciation and artistic edits such as tone or pacing.
CRIPT CHANGES are not covered by Revisions policy.
Do you work with a sound engineer ?
I am a sound engineer, working in Audio Post Production. I own my studio and my equipements are up to professional standards
Do you deliver ultra fast deliveries (same day or less) ?
It may be possible but you should contact me first
Specification:
I will do a french voice over, be your french voice
| | |
| --- | --- |
| From | Morocco |
| Member since | Aug 2021 |
| Avg. response time | 1 hour |
| Last delivery | about 4 hours |
5 reviews for
I will do a french voice over, be your french voice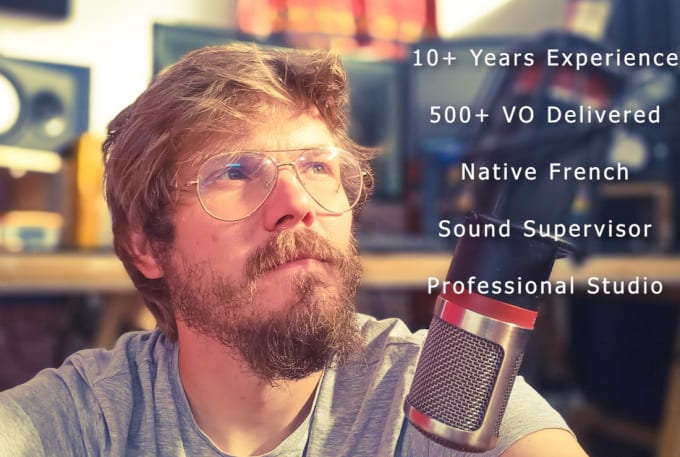 I will do a french voice over, be your french voice