I will narrate your epic deep movie trailer voice over
Last updated on March 30, 2023 2:39 pm
Details
Are you looking for a magnificent, monumental read? A really powerful and emotional voice? A truly EPIC VOICE OVER?
Hi there, I'm Michael Sharpe – the real deal for Epic Voice Overs.
I've voiced hundreds of international trailers in my career as the "voice of the movies".
And I'm now available exclusively on Fiverr for your next project!
Not sure where to start? Check out my FAQs or send me a message and I can put together a quote for you.
Need music? I am a professional audio engineer and can mix royalty-free music with your script, riding the levels to create an exciting listening experience.
Orders start at 75 words for $75… and every additional 25 words for $5. Then, add Broadcast Rights for broadcast licensing, and any other additional services you require.
Standard delivery time is 48 hours
Express delivery in 24 hours is available – add $50
Super fast delivery in 3 hours is available on request – message me!
All VOs are delivered as high quality WAV files – FREE!
Commercial Rights included – FREE!
With Sharpe Voices, you can book with confidence, one simple revision is included – FREE!
Please see the Revision Policy in the FAQ.
Please note: One script per order.
FAQ
Why is Michael Sharpe the best voice for my Epic VO?
I research and rehearse each script before recording the highest quality read. I interpret your script with experience and intelligence. I make sure I'm giving your script the fullest attention and passion it deserves. I bring your story to life in audio technicolour. I love what I do!
What information will you need from me when I order?
I need a final, approved version of your script in text form, and the correct pronunciations of any names or technical words or any words in a language other than English. Pronunciations are best given as a sound file or link. Also, please tell me the tone, pacing, energy or style you want.
REVISION POLICY
Any revision that involves: *a script change, *a significant change in direction from that originally provided, *a new reference track, or *any additional revision after the first, is available at $20 for every 100 words of revisions.
What is covered in the one free Revision?
One free revision includes refining the tone of the VO. Otherwise, if you submit a revised script after delivery or are requesting a different style/tone for the full audio, or are providing any new reference material, a charge will be incurred.
What is NOT covered in the one free Revision?
Not covered: *Script changes. * Significant direction changes. *A pronunciation is wrong, but was not specified by you in an audio file. *VO is not as you imagined but what you did want was not clearly specified. Please be very clear in your descriptions to avoid revision fees. Thank you.
How can I avoid paying for Revisions?
Make sure that the script, direction and reference track are accurate and comprehensive when you place your order. If I perceive that a revision request is actually a significant change to your original direction, or if you're providing a new reference track, that's when a charge will be incurred.
What can I include in the script to help you pronounce unusual words, names, abbreviations and acronyms?
Please make sure the correct pronunciations are in the script, even if you think I already know them. For abbreviations, put dashes in between the characters, such as C-N-N. For acronyms, write the acronym followed by the pronunciation in parentheses, such as NASA (pronounced: NASS-ah)
What are "Full Broadcast Rights"?
By purchasing a Full Broadcast Rights with your order, in addition to the Commercial Rights, the Seller grants you a license for full broadcasting, which includes internet, radio, and TV "paid channels" including television commercials, radio commercials, internet radio and streaming platforms.
Specification:
I will narrate your epic deep movie trailer voice over
| | |
| --- | --- |
| From | Australia |
| Member since | Oct 2017 |
| Avg. response time | 5 hours |
| Last delivery | 1 day |
5 reviews for
I will narrate your epic deep movie trailer voice over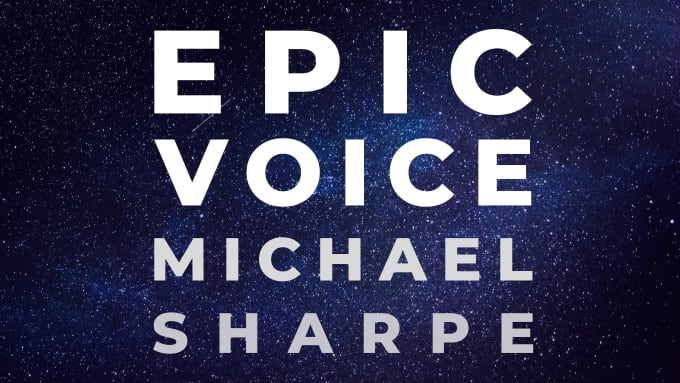 I will narrate your epic deep movie trailer voice over