I will record a female american voiceover in 24 hours
Last updated on May 30, 2023 8:49 pm
Details
Need a high quality, professional American female voiceover RIGHT NOW? You've come to the right place!
I am a Nashville-based recording artist and voiceover actor with over 15 years experience. My work has been featured in children's movies, by international companies, radio, TV & more. I work out of my own private, state-of-the-art, sound-treated studio.
In this gig, I will deliver your voiceover within 24 hours.
Need it even faster? Check the ASAP box and I will place your order to the front of the line!
(see my FAQ for more info) 
I record:
voicemail
audiobooks
explainer videos
instructional guides
Podcasts
TV / Radio Commercials
DJ Drops
YouTube Videos
Real Estate Videos
Tutorials
Presentations
—
If you need a custom order, contact me for a quote! 
You may be required to purchase a commercial or broadcast license:
Broadcast License: Provides full broadcasting rights (buy-out) for advertising products or services in paid broadcasting channels (Radio, TV and Internet)
Commercial License: Provides rights (buy-out) for for advertising products or services in non-paid broadcasting channels, (Social Media, etc)
Still Shopping? Don't forget to ❤️ favorite this gig for later!
FAQ
PLEASE READ BEFORE ORDERING – REVISION POLICY part 1
I really, *really* care about making EVERY project awesome! However, I often run near-capacity daily, and in order to ensure everyone receives a fantastic experience and service (and that I get enough sleep), I adhere to a strict revision policy. Thanks in advance for taking the time to read this!
PLEASE READ BEFORE ORDERING – REVISION POLICY part 2
If you have a tone in mind or a style reference for the voiceover – PLEASE send that with the script! I always LOVE having context on how to best bring your vision to life! If there are words that might be hard to pronounce, send a pronunciation guide (voice notes and youtube links work great).
PLEASE READ BEFORE ORDERING – REVISION POLICY part 3
The one free revision includes any mistakes I've made (words inconsistent with the script, editing errors). This does not include speed/tone re-records, so if you need a certain speed/tone/style then let me know in advance! Re-records for tone/speed/etc will be billed at 50% of the original total.
PLEASE READ BEFORE ORDERING – REVISION POLICY part 4
I understand that changes happen – changes to the script after it's been recorded will incur a fee based on the change. However, changes to the script before it's been recorded are no charge! I will always message you before I record your order to let you know when it's next on my schedule.
PLEASE READ BEFORE ORDERING – REVISION POLICY part 5
If you do need a revision, a revision *must* be marked in the order. Once an order is marked for revision, it is bumped back up to the top of my queue – and considering at any given time I may have 60 – 80 projects on my schedule, I assure you, you want to be on the top! 😀
PLEASE READ BEFORE ORDERING – REVISION POLICY part 6
Once your order is marked for revision, Most revisions will be made within appx 24 hours (M-F). Orders not marked for revision will automatically close within 36 hours. *Once an order closes, a NEW ORDER will need to be made for the revision to add the project back into my schedule.*
PLEASE READ BEFORE ORDERING – PRONUNCIATION POLICY
While it would be super cool if I was a mind reader!? Unfortunately I am not… (yet! Muahah) In the meantime, tricky pronunciations/company names/technical words/foreign words require a SPECIFIC sound guide. If this is not provided and I guess the pronunciation incorrectly, a fee will incur.
Can I have your email address? Phone Number? Whatsapp?
"Negative ghost rider, the pattern is full." – Top Gun
While I LOVE what I do and my awesome clients are the reason why I have the best job in the world, I also need a life and a breather every now and again. To keep a work life balance, all communication must remain here in Fiverr. 😀
Can I have my order now? Is my order ready? Can you respond to me right away?
You are welcome to order/add "Rush Delivery" if you need your order faster than the standard expected turnaround. ​Otherwise, I record projects in the order in which they were received. I reply to messages as quickly as possible during regular business hours, 9a – 5p CTS. 😀
Background Music Policy and Video Synch Policy
I license music from a royalty-free music library. If you have a specific genre/reference/style in mind, please share so I can find something similar in my library! If you need me to synch the timing of the voiceover with a video, OR if I am matching certain timestamps please add Video Synch extra.
Specification:
I will record a female american voiceover in 24 hours
| | |
| --- | --- |
| From | United States |
| Member since | Nov 2017 |
| Avg. response time | 1 hour |
| Last delivery | just now |
5 reviews for
I will record a female american voiceover in 24 hours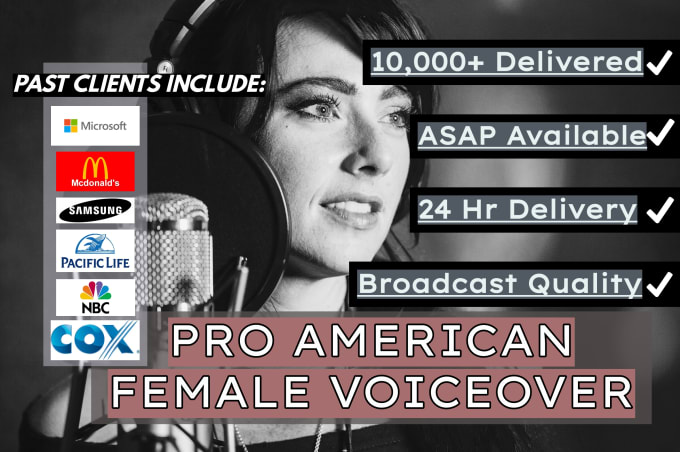 I will record a female american voiceover in 24 hours