I will record a female voice phone message
Last updated on May 4, 2023 7:21 pm
Details
Looking for a warm and friendly voice for your phone Answering and On-Hold Messages?
As an experienced professional American Female Voice Over Talent, I will record your On-Hold Message, IVR, or Voicemail for your company phone system or personal phone in an engaging voice that will "hold" your caller's attention.
You can use this voicemail for all your business and on-hold marketing needs.
The best customer service and a professional recording are my priority.
Here is my Communication Process:
Once I receive your script, I will:
• Read over and apply your directions
• Analyze your script to best determine the pace, style and tone of voice needed
• Record in my professional soundproof studio
• Deliver a fully edited audio file to meet your specs
Keep your clients engaged and create extra revenue by making sure your clients are aware of your current promotions with a message on hold!
Place your On-Hold Message order with me today.
FAQ
Why should I purchase Commercial Rights?
Commercial Rights needs to be included as an extra if your voicemail script promotes your service or products to your customers. You can use this voicemail for all your business and on-hold marketing needs.
How does the Background music work?
You can choose to add background music, that you have the rights to use, or is copyright free, to any file that I create. This adds $15 per file and adds an extra day.
Can you proofread my script
Absolutely. This is listed in the extras.
What are split files?
If you need the project split into separate files, such as the different phone messages, this is an added cost. Or you can choose to put them in separate gigs.
What does a free revision include?
A revision includes changing a few words up to a couple of lines in your script. If I make a mistake, the revision, of course, is free. If you need to rewrite any portion of the script, or require a different tone, pace or pitch from the original direction, revision charges apply.
What is extra fast delivery?
The "Extra Fast Delivery" is a gig extra that sends your order to the front of the line, ahead of everyone else's. Customers who order the "Fast Delivery" gig extra usually receive their orders in 24 hours or less. This is based on typical results, but not guaranteed.
What time zone are you in?
I am on the west coast of the United States, therefore, I am in the Pacific Time Zone.
What equipment do you use for recording?
I have a sound proof studio with a Shure KSM44A micrphone, Focusrite Scarlett Solo interface, Vegas 19.0 Pro DAW, Izotope RX9 audio editor.
Specification:
I will record a female voice phone message
| | |
| --- | --- |
| From | United States |
| Member since | Aug 2019 |
| Avg. response time | 1 hour |
| Last delivery | about 55 minutes |
5 reviews for
I will record a female voice phone message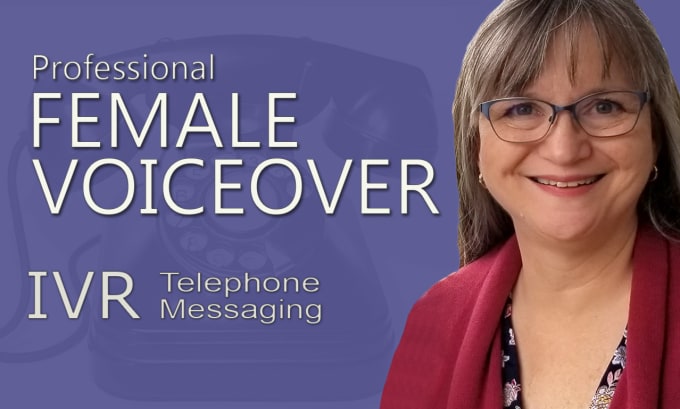 I will record a female voice phone message