I will record a male english voice over in an indian accent
Last updated on March 21, 2023 2:52 am
Details
Do you need a voice over for your video?
Namaste! I am Paran, an experienced Indian voice over artist with an industry standard recording studio. I have been the voice of Coca-Cola, Toyota, Amazon, LG, GE, Maggi, HDFC, ICICI Bank, Rakuten, Spotify, Hostinger, Wrangler, Sony LIV, and many more.
My neutral Indian English accent is perfect for product videos, corporate explainer videos, radio and television commercials, IVR phone greetings, and even podcasts and eLearning or training modules. I record in English and Hindi and take pride in having a clear diction, immaculate pronunciation & voice modulation.
WHAT YOU WILL GET WHEN YOU WORK WITH ME:
High quality WAV file as standard
12 HOUR & even 4 HOUR delivery available upon request
Tone revisions to ensure satisfaction (see FAQs)
Excellent communication and customer service
HOW TO ORDER:
Type the exact word count of your script into the "Number of Words" box when you order.
You can check your word count here: https://wordcounter.net/
Please purchase commercial and/or broadcast rights if you are promoting a business/ brand in any way.
I am at your service, so please click "continue" and order now!
FAQ
When will I get my order?
Orders of up to 300 words are delivered within 24 hours, guaranteed. For longer scripts, please order the 24 Hour Express or 12 or 4 Hour Priority Delivery gig extra for faster delivery.
*Please ignore the estimated delivery time if you order 12 or 4 hour delivery at checkout
Can I order directly without sending a message?
Yes, you are welcome to order anytime. No need to check with me first. My rates and delivery times are outlined on my gig page.
Can I get a free sample?
Absolutely! Send me your script and I will be more than happy to record a short sample for you, to give you an idea if my voice and style works (or not) for your project.
What is your Revision Policy?
All orders come with free unlimited tone revisions to ensure you receive the perfect VO for your project!
Script or directional changes may incur an additional charge.
Revision requests must be made within 48 hours of audio delivery.
What is "Commercial Rights"?
If you intend to use the voiceover for any business-related purposes (with the exception of paid marketing channels), you normally need to purchase the "Commercial Rights" gig extra. For more information see https://www.fiverr.com/terms_of_service#ownership
What is "Full Broadcast Rights"?
If you intend to use the voice over in radio, television, and internet commercials, you will need to buy the "Full Broadcast Rights" gig extra. For more info see https://www.fiverr.com/terms_of_service#ownership.
Can you add background music?
Yes, please add Background Music gig extra while ordering.
Can I call you and direct you as you record my voice over?
Yes, you can call me via Skype or Zoom audio and give me immediate feedback while I record your script to assure that you get the exact read you want. You'll need to purchase my "Live Direction" gig extra. Almost no clients need this service to get the read they want, but if you do, it's available.
What's the best way to assure words will be pronounced correctly?
I'm fluent in English, so I will only require guidance on words that are technical, medical, regional (unusual town pronunciations, etc.) or foreign. In those cases, the best course by far is to record your voice slowly saying each word several times, and send me an audio file.
Can you match the timing of the audio to my video?
Yes, please add "timed audio sync" at checkout. Please understand that this is a tedious and time consuming process and will add time to the delivery.
Specification:
I will record a male english voice over in an indian accent
| | |
| --- | --- |
| From | India |
| Member since | Mar 2017 |
| Avg. response time | 1 hour |
| Last delivery | about 4 hours |
5 reviews for
I will record a male english voice over in an indian accent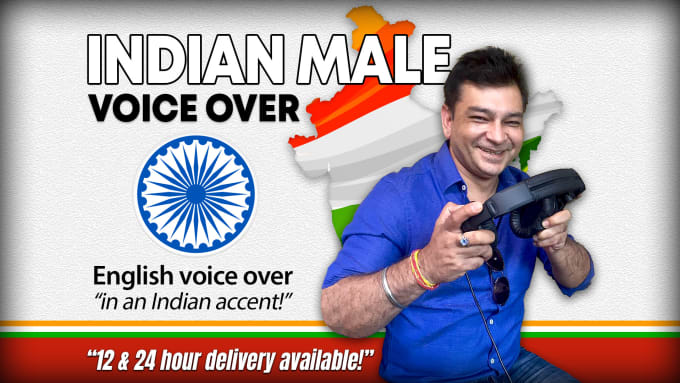 I will record a male english voice over in an indian accent