I will record a pro japanese voice over, includes anime
Last updated on May 15, 2023 6:18 am
Hello,
My name is Rui Tsukishima, I'm a Japanese voice actor, born and raised in Tokyo.
I've studied acting and languages at university and have a significant experience in the voice over industry.
I will be the voice of your commercial, anime, audiobook, short-film, music, youtube video… you name it !
I can act corporate, emotional, cute, angry, and a lot more. I can be a female, from a young girl to a old woman and everything in between, as well a young boy. Please refer to my video showreel to get an idea of what I can do. I also like to do Japanese cute anime voice over style.
I record everything in my home studio with a professional microphone (Aston Spirit) for a top quality narration sound. 
⚫️ 50 Japanese Characters OR 25 Words (English or French) = 5$ 
FAQ
Can you translate my script from English or French to Japanese ?
YES. If you don't speak Japanese or need a script proofreading, don't worry ! I can translate your text from English or French. If your text exceed 50 characters, please contact me upstream.
If your text exceeds 300 words, I kindly ask you to go with someone else for the translation.
What does include a revision ?
I do offer one free revision. A revision typically concerns the tone or the pronunciation of a few words or a sentence.
However, if you're unhappy with the recording and want me to do the whole thing again, this do not counts as a free revision and will be charged.
What gear do you use ?
I use a Aston Spirit Microphone, a Ultra Lite AVB Audio Interface, and Logic Pro X.
Is it ok if I ask you to say some words in English or French ?
If your script includes English or French words, I will pronounce them the Japanese way (unless you specifically ask me not to). For example : "McDonald's" becomes "Makudonarudo".
Specification:
I will record a pro japanese voice over, includes anime
| | |
| --- | --- |
| From | Japan |
| Member since | Jun 2019 |
| Avg. response time | 3 hours |
| Last delivery | 2 days |
5 reviews for
I will record a pro japanese voice over, includes anime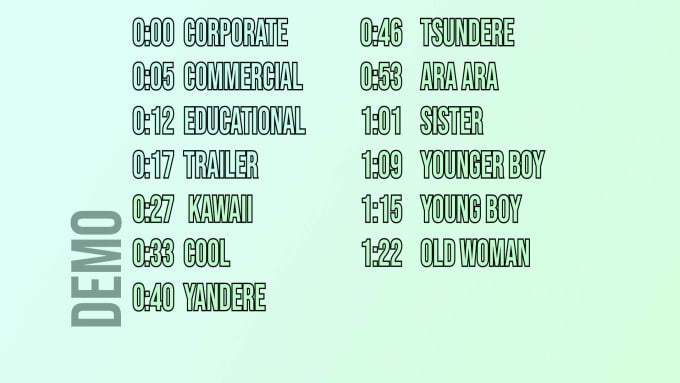 I will record a pro japanese voice over, includes anime