I will record a professional american female voice over
Last updated on May 15, 2023 10:32 pm
Details
*Please read the description & FAQ's below before ordering to prevent unnecessary cancellations or delays.
Professional Voice-Over Service Starts Here! Hi, I'm Laura Beth, a true professionally trained voice over talent. I've produced THOUSANDS of orders with 5-star reviews. That's because I create broadcast-quality audio that is ready for you to use with great speed, and provide excellent customer service. 
I Record:
TV/Radio Commercials, eLearning, corporate narration, English learning, real estate, explainer, political ads, tutorials, podcasts, YouTube videos, presentations, children's books, IVR prompts, and more!
Base price:
Up to 100 words
Delivered in a .mp3 or .wav file format
HQ Audio
EXTRAS Include:
1-Day Delivery
Purchase additional words, $5 per 25 words
Background music
Commercial Use License
Add music
Accents:
Female American English Neutral or Southern Accent
Did you know?
My service is unique in that I'm also a video producer AND on-camera spokesperson. I can edit my voice over to your video and even piece your video content together for you! 
* Please note: I will not record adult, alcohol-related, religious content, CBD-Cannabis related, or swearing.
FAQ
What is a HQ file format?
An HQ file is considered receiving a .wav file format as your final delivery. A .wav file is a less compressed format and better quality raw file to have.
How soon with I receive my recording? How fast is RUSH Delivery?
All orders are delivered within 3 days. But, if you choose Rush Delivery you will receive your order within 24 hours but many times within hours!
Explanation of delivering in separate files?
My gig includes delivering one file. If you have a job that requires delivering your order in separate files, then please select the gig extra to deliver in separate files. Each extra includes up to five files. The reason I charge this is because it takes extra time to render out separate files.
Can I see what music you have in your library?
Yes, I use Audioblocks.com. You can choose from any file from that website for me to use or I can choose one for you. This service gives you many options to choose from to find the right piece for your project.
Do you have your own recording studio?
YES! And because of this, I am able to deliver orders fast. I've had my in-home studio tested and inspected by a 20+ sound engineer as well who has confirmed I am producing HQ Broadcast audio.
Where can I listen to examples of your work?
Right here on this gig page. Just click on the gig video and you'll see me in person and then hear my commercial demo in the video. You can also click to hear former work I've delivered through Fiverr.
What are Commercial Rights, TV & Radio License, and Full Buyout Rights?
I'm glad you asked!
Commercial Use:
If you'll be using the voiceover for any for-profit Internet, Web, or Social Media promotion.
Full Buyout Use:
This option gives you the right to use the audio in any medium such as paid or non-paid advertising, social, TV & Radio, and online.
What other services do you offer? Can you edit video too?
Yes, and Yes! I am also a video producer and editor so I can take your images or powerpoint presentation and piece together a final video for you. Just contact me for a custom order. Happy to help!
How do I know how many words are in my script?
Within a word document, it will tell you on the bottom panel how many words are in your script. Or, I like to use this site: https://wordcounter.net/
Just paste your script within the word counter winter and it will give you a word count total.
Specification:
I will record a professional american female voice over
| | |
| --- | --- |
| From | United States |
| Member since | Feb 2016 |
| Avg. response time | 1 hour |
| Last delivery | about 2 hours |
5 reviews for
I will record a professional american female voice over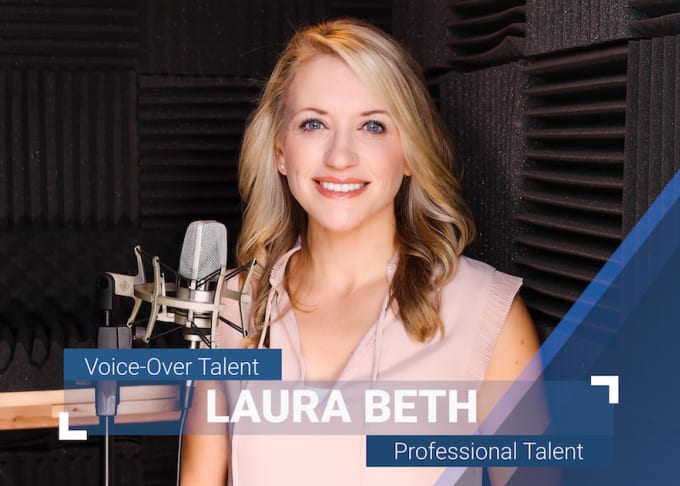 I will record a professional american female voice over