I will record a professional, american, female voice over
Last updated on April 7, 2023 3:21 am
Details
I am here to serve you to bring your project to life.
I bring to the table:
* 30+ years of teaching groups of all ages
* Experience as a director and producer
* Stage acting and directing
* Public speaking and story telling.
These experiences mean that I have a clear understanding of the importance of communication and therefore can offer you peace of mind through the entire audio production process while working with you.
My Communication Process
Once I receive your script, I will:
• Read over and apply your directions
• Analyze your script to best determine the pace, style and tone of voice needed
• Record in my professional soundproof studio
• Deliver a fully edited audio file to your specs
Rest assured that you will receive the utmost care and quality service.  
I am at your service, so feel free to place an order now!
FAQ
Why should I purchase Commercial Rights?
Commercial Rights needs to be included as an extra if your script promotes your service or products to your customers.
What are "Full Broadcast Rights?"
If you intend to use the voice over in radio, television, and internet commercials, you will need to buy the "Full Broadcast Rights" gig extra. For more info see https://www.fiverr.com/terms_of_service#ownership.
How does the Background Music extra work?
I will add music of your choice to your project, providing you have permission from the copyright owner of the music.
Can you proofread my script?
Yes, I can proofread your script. Please check my extras.
What are split files?
I will split your audio into different files so you can mix-and-match them. I will also rename your split files per your preference.
What does a free revision include?
A revision includes changing a few words up to a couple of lines in your script. If I make a mistake, the revision, of course, is free. If you need to rewrite any portion of the script, or require a different tone, pace or pitch other than the original direction, revision charges apply.
What is "Extra Fast Delivery?"
The "Extra Fast Delivery" is a gig extra that sends your order to the front of the line, ahead of everyone else's. Customers who order the "Fast Delivery" gig extra usually receive their orders in 24 hours or less. This is based on typical results, but not guaranteed.
What's the difference between an mp3 file and WAV file?
An mp3 file is a COMPRESSED audio file, a WAV is an UNCOMPRESSED, HQ audio file, so it is of higher quality and is a larger file size.
What time zone are you in?
I am on the west coast of the United States, therefore, I am in the Pacific Time Zone.
What equipment do you use for recording?
I have a sound proof studio with a Shure KSM44A micrphone, Focusrite Scarlett Solo interface, Vegas 19.0 Pro DAW, Izotope RX9 audio editor.
Specification:
I will record a professional, american, female voice over
| | |
| --- | --- |
| From | United States |
| Member since | Aug 2019 |
| Avg. response time | 1 hour |
| Last delivery | about 56 minutes |
5 reviews for
I will record a professional, american, female voice over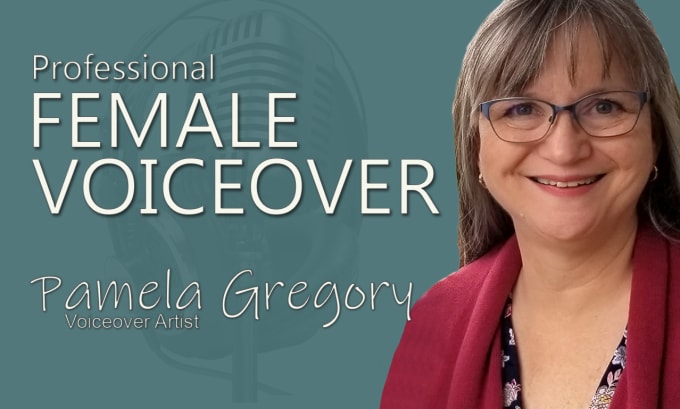 I will record a professional, american, female voice over