I will record a professional american male english voiceover
Last updated on April 7, 2023 9:29 am
Details
Welcome to Hudson's Young Adult Male Voice Over Gig!
I have been interested in working in voice over all my life! I have trained and worked alongside a professional voice over artist the last several years. I specialize in Conversational, Authentic, Believable, Friendly, Genuine, and voice overs. Some of my work includes projects done with Microsoft, PepsiCo and The ASPCA.
What I will do (My guarantee to you):
-I will deliver projects that are 750 words or less in 48 hours.
-I offer 24-hour or less delivery. Check gig extras below.
-Study & apply all your directions for the voice over.
-Read and analyze your script to best determine the voice needed.
-Professional studio and recording equipment
-Edit, master, and format all work to the highest standard.
Please Note:
-Please purchase commercial and/or broadcast rights if you are promoting a business/brand in any way.
-Two FREE revision with each order.
-I am a full-time VO so I can help anytime.
I can't wait to work with you!
Order Now!
FAQ
What is Commercial Rights?
If you intend to use the voiceover for any business-related purposes (with the exception of paid marketing channels), you will need to purchase the "Commercial Rights" gig extra.
What is Full Broadcast Rights?
If you intend to use the voice over in radio, TV, and internet commercials, you will need to buy the "Full Broadcast Rights" gig extra.
What is your revision policy?
A revision would include any minor changes to a script. A complete rerecord is not a revision. Any mistakes that are my fault are ALWAYS free. I offer one minor revision for free with every purchase, otherwise, additional revisions are $10 for 75 words. Ex. 225 words= $30 for revision.
What is "Extra Fast Delivery"?
The Extra Fast delivery is a gig extra that puts you FIRST in line. Customers who order the Extra Fast delivery gig extra usually receive their orders in 24 hours or less.
Do you offer a "Live Direction" option?
Typically no. However, if you really want to use my voice and live direction is the only way, feel free to contact me for availability and pricing.
What time zone are you in?
The time zone is Central Time Zone (U.S.A.-Chicago). I am located in Wisconsin.
What accents or languages do you offer?
I offer an American Accent. Notice: If your script includes words that are in different languages, there is no guarantee that I will that I will get the pronunciation correct. Please contact me before you order, so we can discuss any difficult words/names to pronounce.
Do you offer different voice over styles?
Yes, I can record in most any style you want. I can be genuine, authentic, conversational, friendly, serious, easy-going, guy next-door, corporate, "sad", informative, gruff, gravelly, coarse, and sarcastic. Please see my demos to see some of my different styles.
Do you time sync audio narration to videos?
Yes, I do time sync my audio narration to your video. You will need to purchase the time sync gig extra for the service. Notice: This is not easy and will add time to your project, depending on how long the video is. Please contact me to set this extra up.
Is there anything you don't do?
I do not do scripts with expletives or sexual content. Please contact me if you have any questions regarding this policy.
Specification:
I will record a professional american male english voiceover
| | |
| --- | --- |
| From | United States |
| Member since | Feb 2021 |
| Avg. response time | 1 hour |
| Last delivery | 1 week |
5 reviews for
I will record a professional american male english voiceover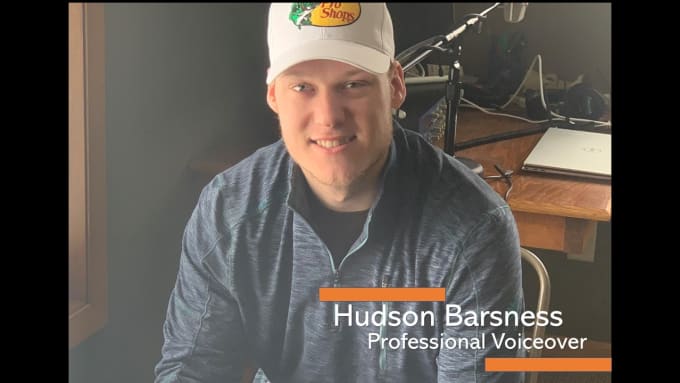 I will record a professional american male english voiceover