I will record a professional american male voice over
Last updated on December 16, 2022 8:24 am
Details
I have a Bachelor's Degree and a Master's Degree in Fine Arts Performance. I have over 20 years of voice acting experience in the booth, on the stage, and have toured around the United States performing for 1000's of people. I specialize in strong, conversational, confident, friendly, and professional voice overs.
Some of my clients include BMW, Jeep, Boys & Girls Club of America, Circle K, Ford Dealerships, Ascari, Polo, and many more. 
This experience means I tell your story in a way that reaches your audience on a deeper level. I use a special process, which I outline below. 
I Will (my promise to you):
Study and apply your directions for the voice over
Read & analyze your script to best determine the voice needed
Record in a professional Whisper Room with Professional Equipment
Edit, master, and format all work to the highest standard
Please Note:
I offer quick delivery. Check gig extras below.
Please purchase commercial and/or broadcast rights if you are promoting a business/brand in any way.
All revisions are extra. Check below. 
I am at your service, so feel free to place an order now. 
FAQ
What is "Commercial Rights"?
If you intend to use the voiceover for any business-related purposes (with the exception of paid marketing channels), you will need to purchase the "Commercial Rights" gig extra. For more information see https://www.fiverr.com/terms_of_service#ownership
What is "Full Broadcast Rights"?
If you intend to use the voice over in radio, television, and internet commercials, you will need to buy the "Full Broadcast Rights" gig extra. For more info see https://www.fiverr.com/terms_of_service#ownership.
How much are revisions?
Revisions are $10 for 75 words. Ex: 150 words = $20 for revision. (I will work very hard to get your revisions completely quickly and professionally.)
What is "Extra Fast Delivery"?
The "Extra Fast Delivery" is a gig extra that sends your order to the front of the line, ahead of everyone else's. Customers who order the "Extra Fast Delivery" gig extra usually receive their orders in 12 hours or less.
Can I call you and direct you as you record my voice over?
Yes, you can call me via Skype and direct me while I record your voice over so you can get the exact read you want. You will need to purchase my "Live Direction" gig extra. Please message me first to set up a time that works for both parties.
What time zone are you in and where are you located?
The time zone is Eastern Time Zone (USA – New York). I am located in Virginia.
What accents or languages do you offer?
I offer an American accent and southern American accent. Important: If your script includes words that are in different languages, there is no guarantee that I will get the pronunciation right. Please contact me before you order so we can discuss the words.
Do you offer different voice over styles?
Yes, I can record in any style you want. I can be happy, sad, upbeat, serious, easy going, next door neighbor, friendly, or just about anything you can come up with. Check out my demo to see some of my different styles.
Do you time sync audio narration to videos?
Yes, I do time sync my audio narration to your video. You will need to purchase the "Time Sync" gig extra for this service. NOTE: This is not an easy task and will add time to your project, depending on how long the video is. Please contact me to set this up. I deliver movies in MP4 format.
What is your communication policy?
You will receive a message from me shortly after I receive and review your script. Also, I will let you know when I start working on your voice-over. If I have any questions during this process, I will send you another message and wait for your response. I will post final product upon completion.
Specification:
I will record a professional american male voice over
| | |
| --- | --- |
| From | United States |
| Member since | Jun 2012 |
| Avg. response time | 1 hour |
| Last delivery | about 3 hours |
5 reviews for
I will record a professional american male voice over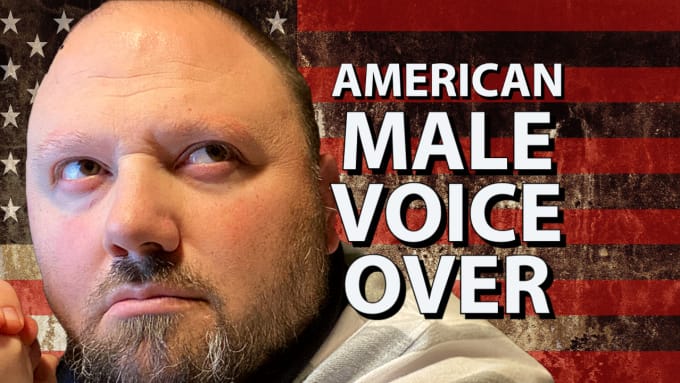 I will record a professional american male voice over