I will record a professional american male voice over in english
Last updated on February 10, 2023 7:35 pm
Professional Young American Male English Voice Over Artist with
Over 350 Perfect Reviews!
Hi, I'm Chris! I have 15 years of acting and recording experience, as well as a Master's Degree in Business Psychology.
My Past Clients Include: Audi, Adobe, Mastercard, G.E. Appliances, Chick-Fil-A, Toshiba, Allianz, Asurion
My Friendly, Engaging, Millennial Voice is perfect for your:
TV, Radio, or Online Commercial
eLearning
Corporate Video Narration
Other Specialties:
Motivational Voice Over
Explainer Video
Phone Message IVR
Voicemail
Social Media Campaign
Youtube Video
I also specialize in Character Voice Acting for Animation and Video Games!
WHAT YOU'LL GET WHEN YOU HIRE ME:
✔️ High quality, edited audio recorded in a professional home studio
✔️ 24-hour delivery for script under 300 words (up to 1000 words as gig extra)
✔️ 1 FREE tone revision up to 300 words to ensure satisfaction (see FAQ)
✔️ Excellent communication
HOW TO ORDER:
Enter your word count
Click 'Continue'
Select the appropriate use rights (See FAQ)
Select other gig extras as needed
Message me if you have any questions or ORDER NOW!
FAQ
Will I need to purchase use rights?
Yes, in 99/100 cases. If you are ordering for ANY business or non-personal purpose, you WILL need to purchase a use rights gig extra. See descriptions below to determine which is applicable.
What are "Commercial Rights"?
Commercial Rights are needed for ANY business usage purposes. This includes internal videos, training, videos on your website, and more. If it is in any way related to a business, you need commercial rights. *If you're going to do a paid tv/radio/internet advertisement, that's broadcast rights.*
What are "Social Media Rights"?
Social Media Rights must be selected if used for posting on ANY social media site. This includes Youtube, Facebook, Instagram, Tik Tok, etc. This covers your use whether or not your channel or account is monotized. NOTE: Paid Advertisement on Social Media sites require Full Broadcast Rights
What are "Full Broadcast rights"?
Full broadcast rights is for any use of my product in paid markets. This would include things like local radio, TV, paid internet ads, Pay-to-play video games, etc. If you are paying to broadcast the voiceover, or if it's directly used in a sold product, this is required.
What is a revision? (Revision Policy)
A revision is a re-record of a reasonable segment of the script with a different tone or style (50 words or less). A script change after an order is made is not a revision, and will require an additional purchase.
Can I proofread and mark up a script?
I certainly can! Just request that in the extras section, and I will be responsive for consultation as desired.
Can I include direction in my script without it counting towards my word-count?
Absolutely, I'm a voice actor after all! I am first and foremost here to serve your needs. I will perform in a serious tone if so directed. My default will always be to be sound engaging, informed, and friendly unless otherwise directed.
Chris, can you perform with different accents?
Absolutely. I specialize in regional American accents including many Northeastern (e.g. New York, Boston, New Jersey), various Southern, and Mid-western (e.g. Chicago). UK accents I can do, but I wouldn't go as far as to say it's my specialty.
What microphone do you use?
I use an industry standard microphone found in every nearly every professional studio, the Sennheiser Mkh 416. Your voice over is recorded in my acoustically treated home studio to guarantee a professional sound quality!
Chris, when do you deliver my order?
I deliver scripts of up to 1000 words within 48 hours, but I also offer up to 1000 words within 24 hours as a gig extra. Certain other gig extras or additional word counts may add time to this.
Specification:
I will record a professional american male voice over in english
| | |
| --- | --- |
| From | United States |
| Member since | Nov 2019 |
| Avg. response time | 1 hour |
| Last delivery | about 2 hours |
5 reviews for
I will record a professional american male voice over in english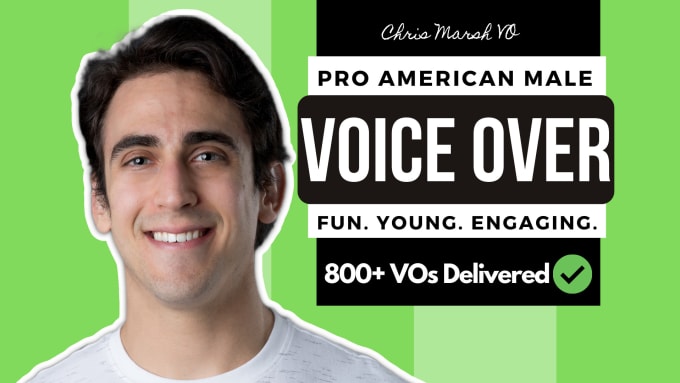 I will record a professional american male voice over in english