I will record a professional female voice over in 24 hours
Last updated on April 30, 2023 9:38 pm
Details
I will happily record for you a professional female voice over script in my standard American accent.
I will record your female voice over and deliver a high-quality MP3 file. All orders have a 72 hour (I'm out of the office) delivery, but if you need it ASAP, you can order Jump The Line in Gig Extras. For every order, I offer one free revision. 
I Offer Female American Voice Overs with the Top Quality Customer Service That YOU Deserve.
Types of Voice Overs I Offer in an American Accent:
Social Media (Instagram, Facebook, YouTube) 
Narration
E-learning Trainings
Voice Over for Explainer Videos
Advertisements
IVRs, Phone Greetings, Voicemails
Webinars & Websites
**It is imperative for me to underline that I will NOT do projects that have profanity or sexual (adult content in nature) in the material.**
Please purchase commercial and/or broadcast rights if you are promoting a business/brand in any way.
THANK YOU! I can't wait to work with you to create the perfect Professional American Female voice over.
FAQ
When do I get my order delivered?
I will deliver your order within 24 hours of purchasing. Orders will usually take the entire 24 hours. Scripts over 1000 words might take longer than 24 hours. If you want your order done FASTER, please purchase the "Jump The Line" gig extra. This will make your order FIRST to be recorded.
What are "Commercial Rights" and do I need them?
If your purchase is for any business-related purposes (with the exception of paid marketing channels), you will need to purchase the "Commercial Rights" gig extra. For more information see https://www.fiverr.com/terms_of_service#ownership
What are "Full Broadcast Rights" and do I need them?
If your purchase is for radio, television, and internet commercials, you will need to buy the "Full Broadcast Rights" gig extra. For more info see https://www.fiverr.com/terms_of_service#ownership.
What is "Jump The Line"?
This places your order ahead of everyone else's the next time I'm in the studio. Customers who order the "Jump The Line" usually receive their orders in 12 hours or less (Order can take up to a maximum of 14 hours). Message me if you need your order quickly.
What is your "Revision Policy"?
If I make a mistake, it will be free of charge. If you make a mistake with the script or change it revisions are $5 for 50 words. Ex: 150 words = $15. This does not include tone/style re-records. If you mark revision for individual edits, you MUST include timestamps of where you need work revised.
What is your "Pronunciation Policy"?
For words or names with an unusual, difficult pronunciation or in a different language there is no guarantee that I will get the pronunciation correct. Please provide their corresponding phonetic interpretation(s) and/or an audio file format (MP3) of you saying the words/names.
Are multiple files included?
No. This gig includes one file only. If you need more than one file please add the split files extra according to the number of files you need.
Why is your delivery time not 24 hours?
I change my delivery time based on the amount of orders I have fulfill, that way I can get to everyone's order on time. Other times I may be sick or spending time with family. If you need something urgently please order an express delivery gig option or message me to see if I can accommodate you.
Specification:
I will record a professional female voice over in 24 hours
| | |
| --- | --- |
| From | United States |
| Member since | Feb 2019 |
| Avg. response time | 1 hour |
| Last delivery | about 1 hour |
5 reviews for
I will record a professional female voice over in 24 hours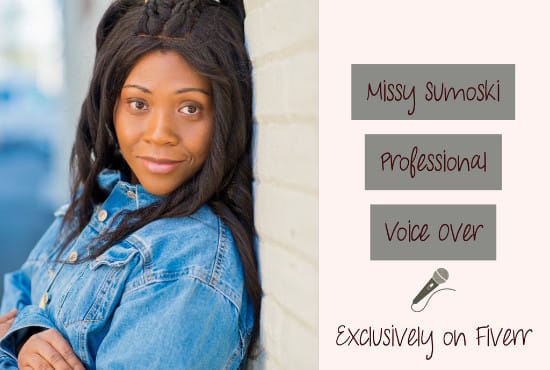 I will record a professional female voice over in 24 hours