I will record a professional friendly warm natural female english american voiceover
Last updated on March 20, 2023 7:49 pm
Details
*Please note, any projects that are not explicitly for personal use will require either Commercial Rights or Full Broadcast Rights. Please message me before placing your order if you have any questions.*
HIGH QUALITY WAV FILE INCLUDED
I have worked with clients like Krispy Kreme, JLL, Tefal, Malo Clinic, YMCA, Versace, FastMed, H&M, and many more!
Hi! I'm Caitlin, an American Actor and Voiceover Artist, and I want to lend you my voice for your project!
I trained for three years at East 15 Acting School, and have been working professionally since 2017.
I will record your script in an Authentic American Accent. Whether you require a tone that's soft, warm and calming, or energetic, engaging, and upbeat, I'm confident I've got the voice for your project. Check out my Commercial and Narrative Demo Reel to hear for yourself!
Please note: Add the corresponding gig extra if using the voice over for a social media campaign or broadcast use.
Each order comes with one complimentary revision of either style or minor script updates; any further revisions after that will be $10 each.
FAQ
What are Commercial Rights?
If you plan to use the voice over I provide for business or promotional purposes, you need commercial rights. Most orders will need commercial rights. The only exception would be paid marketing channels. To learn more, please visit https://www.fiverr.com/terms_of_service#ownership
What Are Full Broadcast Rights?
If you plan to use the voice over I provide on paid marketing channels (TV, Radio, streaming services, paid advertisements), you need Full Broadcast Rights. To learn more, please visit https://www.fiverr.com/terms_of_service#ownership
What Is Extra Fast Delivery?
If Extra Fast Delivery is added to an order, I will deliver the voice over within 24 hours.
What is Timed Audio Sync?
If you would like the voice over to be synced to a video, you would need to add Timed Audio Sync to the order. In the script you provide, you will need to add time stamps for each line stating the start and end time, as it relates to the video.
What Is Your Revision Policy?
Each order includes one complimentary revision, so I can make adjustments to the tone or update the recording due to a minor script change (a few lines, depending on the length of the text). Each additional revision after the first one will be $10 each.
What Content Is Not Allowed To Be Recorded?
I do not record any script that includes sexually explicit content, and each order must strictly exclude any illegal, immoral or defamatory content.
What Kind of Gear Do You Use To Record?
My home studio is equipped with a Sennheisser MKH 416 shotgun mic, used on an Audient iD14 interface, through my MacBook Pro using Adobe Audition.
What Are Live Event Rights?
You will need to add Live Event Rights to the order if you intend to use my voice over at a live event or presentation. If you're not sure about whether you need these rights or not, please feel free to drop me a message!
Specification:
I will record a professional friendly warm natural female english american voiceover
| | |
| --- | --- |
| From | United Kingdom |
| Member since | Feb 2019 |
| Avg. response time | 2 hours |
| Last delivery | 1 day |
5 reviews for
I will record a professional friendly warm natural female english american voiceover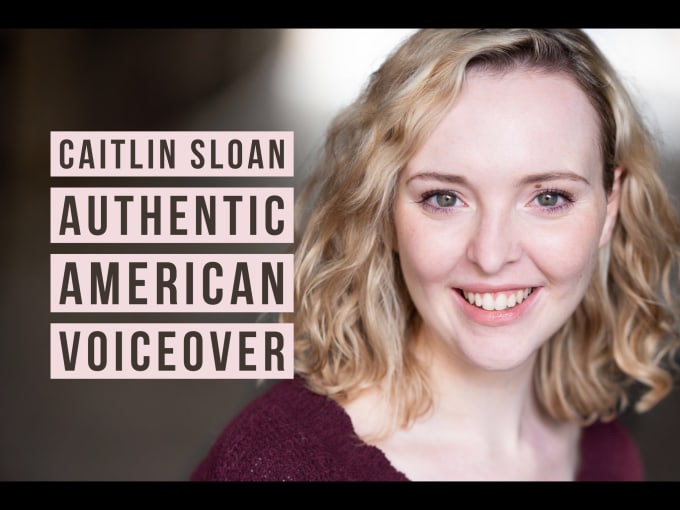 I will record a professional friendly warm natural female english american voiceover