I will record a professional male brazilian portuguese voice over
Last updated on May 30, 2023 2:42 pm
Details
Hi!! I'm Cesar, and I've been working as a professional voice actor since 2006.
I can record a voice over for pretty much any type of project – explainers, ads, phone systems, eLearning, cartoons and more – and will deliver a high quality audio.
Please, specify as much as you can regarding the details of your project and what you hope to achieve. If you have any helpful references, I'd be glad to look it over. Also, please explain any specific and technical terms and names I might not have heard.
Contact me if you have any questions, I'll be happy to reply as fast as possible!!
–
Olá! Eu sou César, e trabalho profissionalmente como locutor desde 2006.
Posso gravar uma locução para praticamente qualquer tipo de projeto – vídeos explicativos, sistemas telefônicos, conteúdo educacional, desenhos, e muito mais – e entregar um áudio de qualidade.
Por favor, especifique o máximo possível sobre os detalhes do seu projeto e o que pretende alcançar. Se tiver referências, terei prazer em analisá-las. Além disso, por favor explique qualquer termo técnico ou nomes que posso não conhecer.
Entre em contato se tiver qualquer dúvida, terei prazer em retornar o quanto antes!!
FAQ
What languages can you record in?
English (American and UK accents) and Brazilian Portuguese (São Paulo, Rio and Northeastern accents) with perfect fluency. Also Spanish, Italian and French with less fluency.
Do you translate as well?
Sure do! Between English and Portuguese (check additional pricing).
Do you record in a studio?
Yep! I have a killer studio setup with a professional mic. My audio is clean and ready to be used in your project.
Can you add music to your voice over?
Sure can! I own a huge collection of royalty-free music, always keeping it fresh and updated. And as my client, what's mine is yours!! Check out additional prices per track.
Em quais idiomas você grava?
Inglês (Americano e Britânico) e Português Brasileiro (sotaques de São Paulo, Rio de Janeiro e Nordestinos) com fluência perfeita. Também Espanhol, Italiano e Francês com menos fluência.
Você também faz a tradução?
Faço sim! Entre Inglês e Português (veja nos valores adicionais).
Você grava em um estúdio?
Sim! Tenho um home studio equipado com um microfone profissional. Meu áudio é entregue limpo e pronto para ser utilizado em seu projeto.
Você pode incluir música em suas locuções?
Posso, sim! Possuo uma grande coleção de trilhas brancas, sempre a mantenho atualizada. Como meu cliente, o que é meu é seu!! Veja os valores adicionais por trilha.
Specification:
I will record a professional male brazilian portuguese voice over
| | |
| --- | --- |
| From | Brazil |
| Member since | Jan 2012 |
| Avg. response time | 3 hours |
| Last delivery | about 7 hours |
5 reviews for
I will record a professional male brazilian portuguese voice over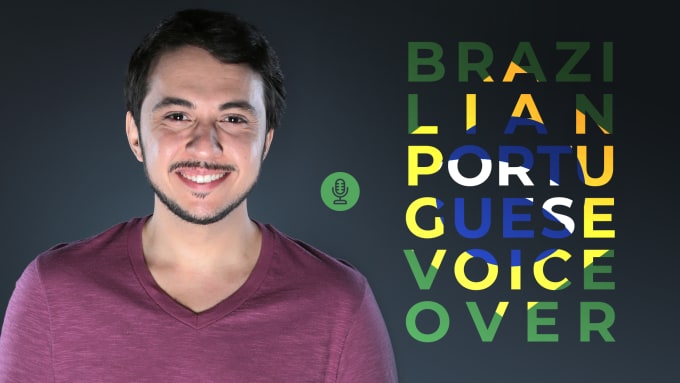 I will record a professional male brazilian portuguese voice over