I will record a professional young male german voice over
Last updated on April 5, 2023 7:59 pm
Downloadable Demos: 
https://www.dropbox.com/sh/dwi9xaeq8mqx4c8/AAAU4XaoB6KWWjDT6QhOvUVYa?dl=0
Hi, I'm Lawrence Maximilian, I offer professional German Voice Overs with a young dynamic adult voice, perfect for advertisements / E-learning / Youtube Content / Explainer Videos / Audiobooks & much more.
✅ With over 5 years of experience I've worked with a number of notable clients, including Google, Levi's, Steel Series, Unilever, Hochschulinitiative Deutschland, Wondershare, Yes Auto & more.
✅ What you get, starting at 10 USD:
a professionally recorded voiceover
mastered and edited HQ audio file (WAV or MP3)
multiple takes and/ or revisions
Broadcasting or Commercial Rights
proofreading and corrections
Timed Audio Synch to already produced videos (e.g. localization)
Express delivery in 24 hours
⭐️ My voice fits perfectly to target audiences of young adults & professionals, or to any company, brand or product that wants to convey a message with a proven mix of energy, down-to-earthness and authenticity.
?? Just send me a message and we can discuss your project!
?? Schreib mir einfach eine Nachricht, und wir können dein Projekt besprechen!
Voice Over Artist/ Sprecher
FAQ
Can you record the Voice Over within 24 hours?
Express Delivery includes a surcharge, but feel free to message and we can always find a solution!
Which usage rights do I need?
The basic gig includes rights for internal usage, business presentations, IVR and internal pilots, etc.
For publication on Social Media or use of paid ads, Commercial Rights are necessary per published video.
For TV or Radio the Full Broadcasting Rights are necessary.
I'd like to listen to some more samples before purchasing, do you have any more demos?
Picking the right voice always takes time. Here is a Dropbox Folder with my downloadable Demo Reel:
https://www.dropbox.com/sh/rbd105k6qxdtkpq/AAB-kRNt8aWEFe7kDjEUJ4Oia?dl=0
If you would like me to record a short sample of your project, just send me a message and I'd be happy to do so.
Do you record Custom Demos?
If you're unsure about my voice fitting to your project, you're welcome to message me first. I'll gladly record a Custom Demo of your script for you.
I want to use this Voiceover for a Youtube Video. Do I need any Extras?
For Youtube Videos, please add "Commercial Rights" to the order. Commercial Rights are needed for publication or paid ads on Social Media, incl. Youtube, Facebook, TikTok, Instagram, etc.
Revision Policy
The basic gig includes one free revision, in terms of tonal and style changes. Please note that any significant script changes come at an extra charge.
Do you offer proofreading?
If you're not sure about the grammar or wording in your script, feel free to add proofreading to your order. I'll gladly make sure the script is at its best!
What equipment do you use?
I record with a Neuman TLM-103 in a sound booth in my professional studio. I edit the Voiceovers with Cubase and plugins such as Izotope and Focusrite Red
My project has a limited budget, what now?
Feel free to message me, if you're unsure about the projects scope and price. I'd be happy to try and find a solution with you!
Specification:
I will record a professional young male german voice over
| | |
| --- | --- |
| From | Germany |
| Member since | Jul 2017 |
| Avg. response time | 2 hours |
| Last delivery | about 17 hours |
5 reviews for
I will record a professional young male german voice over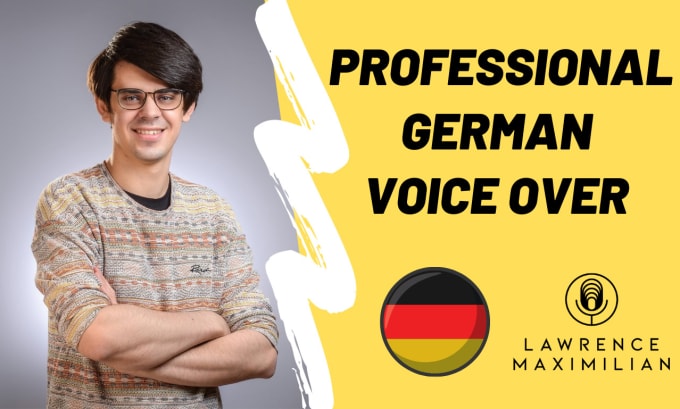 I will record a professional young male german voice over