I will record an american male voice over
Last updated on December 3, 2022 10:51 am
Details
I am excited to provide you with a professional American Male voice over for all your needs.
I have over 40 years of performance experience in the booth and on stage as an actor and musician. I've toured and traveled much of the Far East, and extensively in North and South America performing for tens of thousands of people.
This experience means I tell your story in a way that reaches your audience on a deeper level.
I specialize in strong, conversational, confident, friendly, and professional voice overs. 
I promise to:
Study and apply your directions for the voice over
Read & analyze your script to best determine the voice needed
Record a high quality VO with Professional Equipment
Edit, master, and format all work to the highest standard
Not ready to order yet? Favorite my gig so you can find me later!
Questions? Shoot me a message and I'll be in touch promptly.
Please Note:
I offer fast delivery. If you need it faster than that, check gig extras below for "Super Fast".
Please purchase commercial and/or broadcast rights if you are promoting a business/brand in any way.
1 revision is included, additional revisions are priced below
I am at your service. Order now!
FAQ
What is a "revision" and how much does it cost.
Revisions are changes made after the initial recording is delivered. It is usually a small change (a sentence or two) to improve the finished read. The first is included, after that – $5 for 50 words. Ex: 150 words = $15 for revision. **A full rerecord is not a revision.**
What does "Commercial Rights" mean? Do I need this for YouTube? What about my socials?
Yes, YouTube, social media and your website.
**Please note: CR's are charges by word count; $10/150 words**
If you intend to use the voiceover for ANY business-related purposes you will need to purchase this gig extra. Not sure = YES, You Need CR's! For more see https://bit.ly/3GujbLY
Please explain "Broadcast Rights".
If you intend to use the voice over in radio, television, streaming and actual internet commercials, you will need to buy this gig extra. For more info see https://www.fiverr.com/terms_of_service#ownership.
**Please note: BR's are charged by word count; $15/150 words**
What is "Super Fast Delivery"?
The "Super Fast Delivery" is a gig extra that sends your order to the front of the line, ahead of everyone else's. Customers who order the "Super Fast Delivery" gig extra usually receive their orders in 12 hours or less.
Do you offer different styles of voice over?
Yes, I can record in any style you want. I can be happy, sad, upbeat, serious, easy going, next door neighbor, friendly, or just about anything you can come up with. Check out my demo to see some of my different styles.
What other languages and accents do you offer?
I have a neutral American accent suitable for most projects. I can do Southwest US (Texas) and general British accents and am always working on others. Ask me, I might. I'm practicing my LA Spanish.
Can I call and direct you as you record my voice over?
Yes, you can connect via zoom and direct me while I record your voice over so you can get the exact read you want. You will need to purchase my "Live Direction" gig extra. Please message me first to set up a time that works for both of us.
What time zone are you in?
I'm in the Eastern Time Zone – USA-New York (UTC -5).
What is your communication policy?
I'll send you a message shortly after I receive and review your script. If I have any questions during this process, I will send you another message and wait for your response. I will post final product upon completion.
Specification:
I will record an american male voice over
| | |
| --- | --- |
| From | United States |
| Member since | Mar 2021 |
| Avg. response time | 1 hour |
| Last delivery | 1 day |
5 reviews for
I will record an american male voice over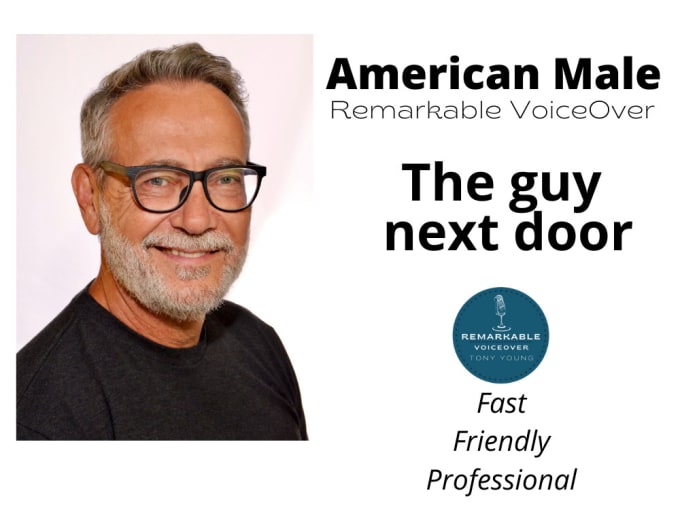 I will record an american male voice over