I will record an american male voice over
Last updated on April 4, 2023 12:55 am
Details
I am a full-time Professional Male Voice Actor I'd love to help your project stand out by providing a pro voice over! 
Checkout my reviews and buy with confidence!!
Some of my clients include Rusty Wallace GMC, Mossberg, Jockey, Anago protection, Westward Parts, and many more. 
My voice has been described as approachable, conversational, smooth, and you can expect me to deliver in warm, friendly, informative, authoritative, enthusiastic, and casual tones to suit your needs using an Adult, Middle Age or Senior American Male Voice.
Delivery:
I deliver most voice overs in 24 Hours or less for projects under 750 words
Here's just some of what I offer:
Narration 
White-Board animation voice over
Character Voices
Commercial
Audio-books
E-Learning
Webinars
Documentary
Explainer 
American neutral, southern or Texan accent
If you don't see what you need listed, please feel free to contact me or send an email so we can discuss this or any of my other gigs!
I'm easy to work with and most projects are delivered within 24 hours!
Please purchase Commercial and/or Broadcast rights if promoting a business or brand.
Pease check-out my FAQ to answer some common questions!
FAQ
How long before my order is delivered?
Most are delivered within 24 hours. Depending on the length and other add-on upgrades, the delivery time can vary from time to time depending on the circumstances.
What is "Commercial Rights"
Voiceover used for any business-related purposes (with the exception of paid marketing channels), you will need to purchase the "Commercial Rights" extra gig Please see
https://www.fiverr.com/terms_of_service#ownership
How much are revisions?
Revisions are $5 for 50 words. Ex: 150 words = $15 for revision. (Please add an extra day for some revisions)
What are "Full Broadcast Rights?"
If you intend to use the voice over in Radio, Television, or internet communication, you will need to purchase the "Full Broadcast Rights" gig extra.
For more information see:
https://www.fiverr.com/terms_of_service#owners
What is the "Fast Delivery"?
The "Extra Fast Delivery" is a gig extra that sends your order to the front of the line, ahead of everyone else.
Customers who order the "Extra Fast Delivery" gig extra, USUALLY receives their order in 12 hours or less.
What time Zone are you in and where are you located?
I am located in the USA Central Time Zone in Houston Texas!
Can I set-up a directed voice recording?
You will need to purchase my "Live Direction" gig extra. Please message me first to set up a time that works for both parties.
What accents or languages can you offer?
I offer an American accent and southern American accent. Important: If your script includes words that are in different languages, there is no guarantee that I will get the pronunciation right. Please contact me before you order so we can discuss the words.
Can I add background music?
I am a member of a royalty-free site, and will send you the link so you can pick the music you want! Just select the extra (per track), and we will coordinate the details in the order!
I'm new to Fiverr, How does this work?
Review the Description and FAQ's. Listen to the Demos. Place your order then fill out the Requirements (after your order is placed). Submit your script and any specific instructions you may have for the voice over. The clock will start as soon as you place your order!
Specification:
I will record an american male voice over
| | |
| --- | --- |
| From | United States |
| Member since | Jul 2019 |
| Avg. response time | 3 hours |
| Last delivery | about 1 hour |
5 reviews for
I will record an american male voice over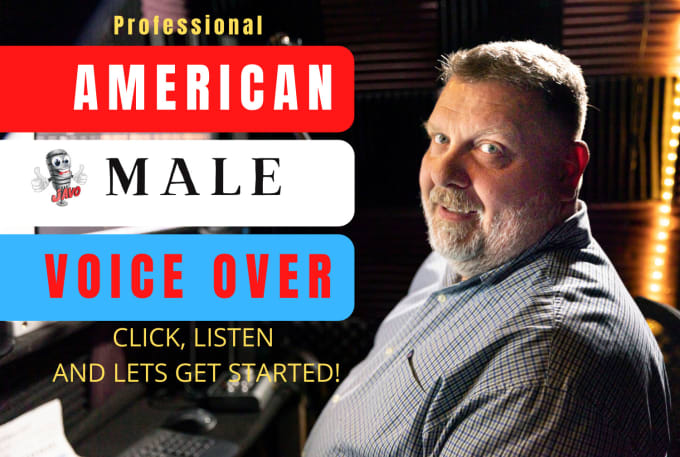 I will record an american male voice over