I will record an english american female voice over
Last updated on January 29, 2023 3:13 pm
Details
My name is Stefanie and I have 25 years combined experience in voice over, marketing/sales and speaking/training experience.  My focus is to listen to your needs to deliver the quality voice to engage your listeners.
What you get:
·       Automatic Commercial Rights!
·       48 hour turnaround (need it quicker? I've got options on check-out for that!)
·       Style revision (up to 350 words), Style review (over 350 words)
·       Fast communication
Some recent clients have included: Motorolla, Johnson & Johnson, General Motors, Kyocera, Avantor, New York Life and many more!
Reach out and let me know your needs, I'll come up with a custom offer tailored specifically to your needs.
Don't need a custom quote? enter the number of words, then on check out select any of the additional services you need and submit!
Not ready to order? Favorite this gig so you can come back later!
Need something else? Check out my other gigs…Voice Greetings, Explainer Video, Podcast Intros, Real Estate tours & more!
" I have hired many VO and she is the best I have worked with by far….I highly recommend" – Mark F
FAQ
Can you rush my order?
Absolutely! I do offer that as an extra. Please reach out to me first to ensure availability. refer to my gig extras for details.
Do you offer revisions?
For projects under 300 words, I offer 1 free style revision. For projects over 300 words, a free style REVIEW will be provided (to verify you are pleased with the tone and pace). All style changes beyond this will be charged as revisions.
What are "Commercial Rights"?
If you intend to use the voiceover for any business-related non-paid, non-promotional purposes you will need to purchase the "Commercial Rights" gig extra (webpage video, informational etc). For more information see https://www.fiverr.com/terms_of_service#ownership
Can you do timed audio sync?
Absolutely! When you visit my extras section you will find 2 options. 1 is to sync the audio with timestamps YOU PROVIDE in the script. The other is to have me review the video and determine where the timestamps need to be. The second is more intensive, thus the higher rate.
What are "Full Broadcast Rights"?
If you intend to use the voice over in radio, television, and internet commercials, you will need to buy the "Full Broadcast Rights" gig extra. This includes YouTube/Facebook/IG Promos or anything promoting the business. For more info see https://www.fiverr.com/terms_of_service#ownership.
Can you add music to your voice over?
Yes! I can offer music, I do request that the buyer supply the desired track and I can edit it in. Please refer to my gig extras for details of adding this service.
Will you do a voice over like a reference video that I send you?
Yes, I will do my best to produce a voiceover similar to what you send me. I am not able to do impersonations. I can only model what is provided. Intonation, natural pacing, volume, etc. is unique to each voice so you will get my unique voice in the STYLE of your request.
Specification:
I will record an english american female voice over
| | |
| --- | --- |
| From | United States |
| Member since | Nov 2017 |
| Avg. response time | 2 hours |
| Last delivery | 2 days |
5 reviews for
I will record an english american female voice over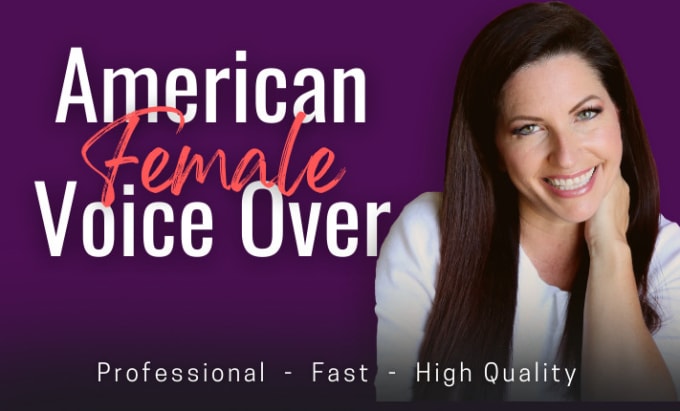 I will record an english american female voice over