I will record professional female voice overs in english hindi urdu
Last updated on April 24, 2023 11:39 am
Details
*Read FAQ's for more info*
Hey there! I can provide a female voice overs/dubbing for any project be in English, Hindi or Urdu. I can modulate my voice depending on your requirement. I can do child character voices as well for cartoon videos!
I will provide you with a high quality female voice narration. Check my audio samples.
I can do a pure Indian English accent as well if you like! 🙂
Get voice over for:
·       Animated/YouTube/Corporate videos 
·  Audio books
·       Children's stories
·       E-learning, online training modules 
·       Narration
·       Radio commercials
·       IVR, Voice Message
·       Apps
·       Games
·       Character voice and more!
Please contact me before you place your order.
FAQ
Do i contact you before ordering?
Feel free to contact me before placing an order.
Cost of revisions?
Any revisions for mistakes that i make i will do it free of charge. If you wish to change anything that was pre-agreed then fresh gig rates will be charged. Also the delivery may get delayed!
Voice tone/speed/style/pronunciations?
If you have any specific voice tone, style or speed of narration please clearly mention all details while placing the order.
If there are words that might be hard to pronounce or have specific pronunciation(company/brand/character names) then send guides like voice notes or YouTube links.
Rates for dialogues? What if scripts contains both narration and dialogues?
For dialogues which includes one voice only just double the basic rate.
A 5$ extra for additional character voice modulation. (This is only for kids content)
Simply separate the narration part and dialogues part and calculate the number of words separately.
Would you change the rates if its a big script like over 1000 words?
Contact me for a quote.
Any content that you don't do?
Any religious, political, explicit or sexual voice overs will not be accepted.
Rates for TV or Radio ads?
Ads upto 30 seconds have a fixed rate of 10$.
What if my script has less than 100 words?
5$ rate is a minimum.
Specification:
I will record professional female voice overs in english hindi urdu
| | |
| --- | --- |
| From | India |
| Member since | Feb 2021 |
| Avg. response time | 1 hour |
| Last delivery | about 18 hours |
5 reviews for
I will record professional female voice overs in english hindi urdu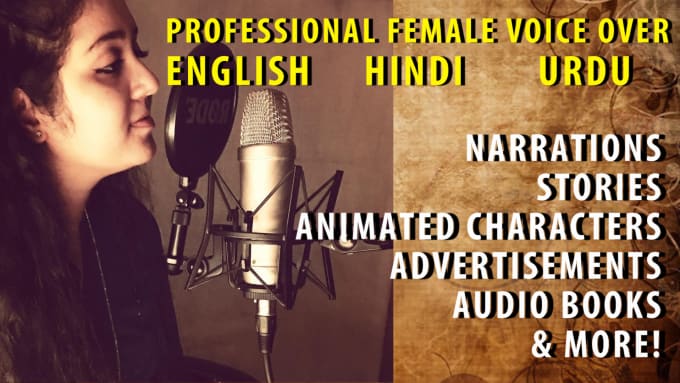 I will record professional female voice overs in english hindi urdu