I will record your american female IVR or voice mail
Last updated on April 18, 2023 5:42 pm
Details
Hi! I'm Kelli and I'd love to work with you! I have 5+ years experience in Voiceover, an in-home PRO recording studio and available to work quickly for you.
I can record your:
On-Hold Greeting
IVR
Phone system recording
Voicemail Greeting
Just include what type of style you are looking for….whether it's corporate, sassy, professional or friendly.
Did you like my demo? Need a custom sample to make sure I'm the voice you want representing your business? Just let me know 🙂
I can provide an mp3 or wav file to you within the specs given for your phone system.
Thanks and I look forward to working with you!
Kelli
FAQ
Can you break up into separate files so I can easily upload to my phone system?
Absolutely! Anything I can do to make it easier on you, I will do my best to make happen. A lot of phone systems differ in format requirements too such as mp3 or wav. Just let me know what your specific needs are and I'll provide that.
Do you record personal voicemails?
This gig is mainly used for business use and corporate voice answering systems. If you have a personal voicemail recording you need, let me know first what the script is so I can be sure it's appropriate to the gig.
Please note: I don't sing or perform NSFW voicemails for personal use.
Can you provide a wav or mp3 format specific to my phone system?
Yes, many phone systems differ in their requirements for uploading. Such as 44100hz, mono, and 16 bit for example. Let me know if your phone system requires something very specific and I'll work with you to make it happen.
Can you translate to Spanish as well?
I'm not fluent in Spanish but I can record simple sentences for you to include in your voice greetings such as: "Presione Cinco para espanol"
What's included in a revision?
Performance Mistakes: Mispronunciations or missing words.
Artistic Edits: One round of feedback concerning pacing or tone.
Script Rewrites: One round of rewrites, that are less than 10% of the final script are included. Anything beyond a 10% change would require a new order.
Specification:
I will record your american female IVR or voice mail
| | |
| --- | --- |
| From | United States |
| Member since | Nov 2018 |
| Avg. response time | 1 hour |
| Last delivery | about 46 minutes |
5 reviews for
I will record your american female IVR or voice mail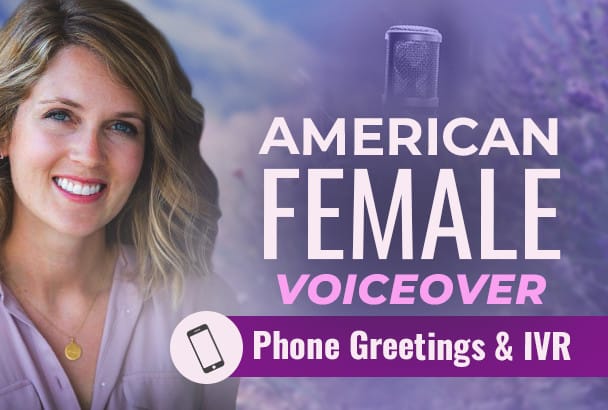 I will record your american female IVR or voice mail