I will record your business voicemail, IVR or phone system greeting
Last updated on May 28, 2023 6:08 pm
Details
Welcome to my gig! I am a Full-time, Professional American Female Voice Over and I look forward to recording your IVR, voicemail or any other phone system message that you need!
Any business that wishes to represent themselves in a professional way MUST have a professional message to greet their existing and potentially new customers! I would be happy to put a PROFESSIONAL yet WARM and FRIENDLY voice to your company name!
Order my gig and you will also get:
A FULLY EDITED AND MASTERED BROADCAST QUALITY MP3 OR WAV FILE (YOUR CHOICE) IN UNDER 48 HOURS!
FIRST 5 SPLIT FILES INCLUDED!
1 REVISION INCLUDED! (IMPORTANT: THIS INCLUDES 1 AND ONLY 1 SCRIPT CHANGE UP TO 75 WORDS! SEE FAQS FOR DETAILS.)
**CHECK GIG EXTRAS FOR ADDITIONAL BONUS SERVICES I CAN PROVIDE!!
If you have questions shoot me a message and I will get back to you quickly!
Also be sure to checkout my OTHER GIGS for additional services provided!
So go ahead and ORDER NOW and let's get your project started! I look forward to working with you!
Thank You!
Allie
FAQ
I want to place an order but I have questions and am a little confused-help!?
No problem, we understand! Simply hit the contact button, tell us what you need and when you need it and we can answer any questions AND send you a custom offer that gets the whole process started for you. Simple! Our average response time is less than 1 hr so rest assured you will hear from us!
How soon can I expect my order to be delivered?
I can guarantee your voice over will be delivered in under 24 hours, often times sooner depending on my work load!
What is your revision policy?
I include ONE revision with your gig purchase that covers ONE script change up to 75 words. ANYTHING beyond this will require purchasing additional revisions which are just $10 per 75 words. (Example: a tonal reread on a 300 word script would require 3 revision purchases totaling $30)
How can I make this whole process go smoothly and not need multiple revisions? (Part A)
Great question! Sometimes revisions are unavoidable, HOWEVER most can be avoided by doing the following:
1). Proofread your script before you upload it (or pay us to do it)! Most scripts have errors and these can create problems after the recording is completed and will prolong the entire process.
How can I make this whole process go smoothly and not need multiple revisions? (Part B)
2). If there are any names, locations, or acronyms that need explanation or pronunciation guidance then PLEASE provide it prior to the start of the job! WE CAN'T STRESS THIS ENOUGH!!
3). Also, please provide what tone and/or pace you want for your script. Without your guidance, we are guessing!
Can you add Background Music to my voice over?
Yes! I am able to add royalty free music to your voice over from https://www.audioblocks.com. If you have a specific background music in mind please send me the title information and category. Please select the option for background music at check out. You can also contact me with any questions!
When do I need to purchase Broadcast Rights?
Broadcast Rights for the voice over should be purchased if the voice over is going to be used in paid marketing channels such as television, radio, and internet radio commercials as well as music/video streaming platforms.
What is "Live Direction" and how does it work?
This is where we connect through Skype or Zoom and you listen in and offer direction on my narration of your script during a live recording session! There are a few simple rules that we must follow here on Fiverr for this service so BE SURE to contact me FIRST before placing this order!
What equipment do you use to record your voiceovers?
We have a professional studio with the following equipment:
1). Microphone: RODE NT1000 and Synco D2 Shotgun Mic
2). Interface: Universal Audio Apollo Twin MK II
3). Digital Audio Workstation (DAW): 21 inch IMAC with ADOBE AUDITION CC
Specification:
I will record your business voicemail, IVR or phone system greeting
| | |
| --- | --- |
| From | United States |
| Member since | Aug 2019 |
| Avg. response time | 1 hour |
| Last delivery | about 6 hours |
5 reviews for
I will record your business voicemail, IVR or phone system greeting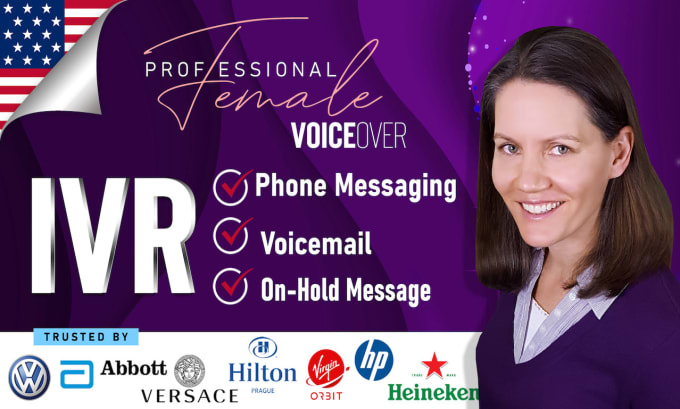 I will record your business voicemail, IVR or phone system greeting