I will skyrocket ranking with high quality dofollow SEO backlinks
Last updated on May 14, 2023 1:36 am
Details
*Houston, Texas Based Digital Marketing & SEO Expert*
Don't you think more traffic leads to more business and hence more revenue? Are you looking to improve your Google Ranking?
Great! You're at the most advanced & successful white hat backlink SEO service! I've developed "LatticeWork Technique" after closely working with 1000s of clients around the globe. I focus on E.A.T, aka Expertise, Authoritativeness, and Trustworthiness for best results during your campaign. 
LatticeWork Technique for Google Rank
Relevancy & Foundation Tiered backlinks
Contextual SEO backlinks
Public blogs & Web 2.0
Brand mention & Social sharing
Mix of Comment, Forum, & Files backlinks & more.
What do I do? 
Follow tailored "LatticeWork Technique,"; a proven white hat off-page SEO technique
Do everything manually; drip-feed all the links naturally with diverse anchor text, keywords, and a mix of no-follow & dofollow
Don't wait for tomorrow; kick-off campaign today and beat your competitors! Inbox me for better results!
Disclaimer: I don't own Google. -:( I can't guarantee any specific ranking in the search results; however, the links will positively influence your website traffic and improve ranking.
FAQ
Do I need to contact you before ordering your off-page SEO backlink service?
It's up to you. You can always order my off-page SEO backlink service directly; however, I'd recommend you contact me before to go through the website and understand your need. Communication is a must for great service, and I'd always be a ping away for help. Don't be shy, inbox me to grow business!
What things do I need to get started with your off-page SEO service?
That's a great question! I'd need your website URL, keywords (Don't have? No worries, I can help you with this.), and Gmail (Yes, Google mail). To make the campaign successful, I might ask you for a brief description of your brand and target audience. Inbox me to increase Google organic traffic. 🙂
I don't know my SEO keywords. Would you be kind to do keyword research?
No worries. I understand! If you don't have keywords for your brand/website, leave that to me, I'll do keyword research based on analyzing your competitor and get the best keywords for the SEO campaign. Since I'm from the USA, I'll do more detailed local USA-based research. Inbox me to learn more!!!
I see you're from the USA. What SEO tactics and strategies do you use? How are you different than others?
Trustworthy USA-based gig service!. I'd be using an in-house developed technique called the "Latticework technique." I've developed this technique after years of research & experiment. It is a purely white hat SEO tactic and follows Google Webmaster. Nope, A Big NO!; don't do any black-hat practice.
How long would it take to see the improvement in the Google ranking?
SEO is a game of patience; play fair to win -:) It may look quicker, but it's quite ongoing process. It depends on hundreds of niches, competition, website speed, On-Page SEO, etc. Usually, my clients see improvement within 4-5 weeks. Follow drip-feeding with all the links naturally; NO Google Spam!
Do you guarantee rank #1 in Google for my website if I buy your SEO service?
Unfortunately, no one can guarantee a specific ranking in SEO. As I explained earlier, SEO is a process involving 100s of things to get Rank #1. If someone is guaranteeing that he/she will get your website on rank/page #1, it means either they are scamming or doing black hat things. Beware of them.
What types of SEO backlinks would you be going to create?
Following Latticework technique, I'd focus on almost all types of backlinks to look natural. Creating profiles, forums, QnA, Contextual, Tiered, Web 2.0, & Comment backlinks. However, I've multiple types of methods in the Latticework technique; most of them are unknown to the SEO world. Inbox me!
I see other sellers offering high DA on backlinks? Do you believe with ALL High DAs (~70+)? What would be the DA of your backlinks?
That's a great question. 🙂 Any sudden change to weather leads to health problems. In the same way, any sudden change to Google indexing on your website will be flagged too. I don't recommend ALL very high DAs together. I'd give a mix of DA ~20-70 for the best natural ranking to get Google Indexing.
Do you build all the DA off-page SEO backlinks at once?
Nope! Big NO, I don't build all the backlinks at once. Doing in one go is considered Spam to Google, and it'd affect your website negatively. I drip-feed all the links naturally every day for ~2-3 weeks, so your link profile will look natural. Love to link your business with the high DA websites. 🙂
What type of SEO backlinks would you be going to build? Dofollow only or a mix of both styles?
I focus on a natural backlink profile, and when anyone says natural, it means there would be both types of links and not just dofollow. For a healthy and long-lasting backlink profile, both dofollow and nofollow high authority backlinks are required. I follow tiering approach for backlinks!
Specification:
I will skyrocket ranking with high quality dofollow SEO backlinks
| | |
| --- | --- |
| From | United States |
| Member since | Apr 2021 |
| Avg. response time | 1 hour |
| Last delivery | about 1 hour |
5 reviews for
I will skyrocket ranking with high quality dofollow SEO backlinks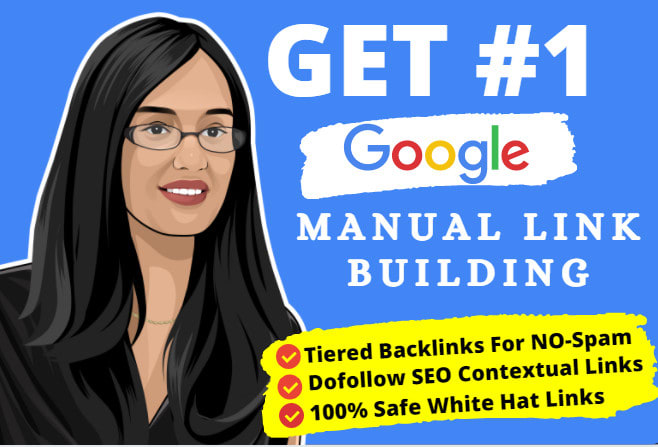 I will skyrocket ranking with high quality dofollow SEO backlinks